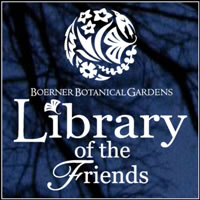 The Friends of Boerner Botanical Gardens, Inc. opened a library for public use, specialized study, and community enrichment in September 2005.
The Library supports the preservation of historic botanical assets including the archives of Charles Whitnall and Alfred Boerner, the Trial Garden's program results, historical plant records, and the Flowering Crabapple Collections.
Library Volunteers: Mary Koshollek and Judy Markowski
Library Hours vary please call 414-525-5653.
(We are happy to open the library by appointment during building hours.)
DONATIONS
Donations are welcome.  Clean undamaged botany, gardening and nature books are accepted as well as monetary donations.
A special thanks to two generous donors to the library, in memoriam:
Maryalice Koehne
Joan Prince
For further information, please contact the Friends administrative office at (414) 525-5653.