Horticultural Library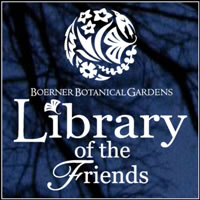 The Friends of Boerner Botanical Gardens opened a library for public use, scholarly study, and community enrichment in September 2005.
The Library supports the preservation of historic botanical assets including the archives of Charles Whitnall and Alfred Boerner, the Trial Garden's program results, historical plant records, and the Flowering Crabapple Collections.
Library Hours vary please call 414-525-5653.
(We are happy to open the library at any time.)
DONATIONS
Donations are being sought to further develop the book collection.  Recently –published, clean undamaged botany, gardening and nature books are accepted as well as monetary donations. 
You can also donate new books through Amazon.com.
Click here to visit our Amazon.com wishlist.
A special thanks to two generous donors to the library, in memoriam:
Maryalice Koehne
Joan Prince
For further information, please contact the Friends administrative office at (414) 525-5653.