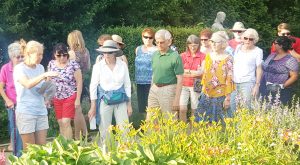 Boerner Botanical Gardens features glacial fieldstone walls and original, handcrafted limestone statuary.  The Garden House, built in 1939 features original wood work created by artisans from the 1930s.
The Friends of Boerner Botanical Gardens (FBBG) offers groups of 12 or more an opportunity to view Milwaukee County's premier outdoor venue with a one-hour, educational, docent-guided tour at a special group rate of $15 per person.
Garden Tours available May through September include:
Beautiful signature gardens
Professionally labeled and evaluated plant collections
One of the largest crab apple collections in Wisconsin
Wetland area (teaching visitors about rainwater harvesting and recycling)
Over 500 varieties of roses
Individual gardens including herbs, annuals, shrubs, daylilies and peonies
Wheelchair accessible Garden paths updated 2015 & 2020 (previous gravel walkways are now paved).
Group Tour Reservations
(414) 525-5666 or email nroeglin@fbbg.org
Guided Group Tour Inquiry Form: