About the Gardens
Learn about the Milwaukee County Horticultural Staff, Art and Sculpture in the Gardens or view a map of the Gardens.
Select from the following list:
Trial
Arboretum
Annuals
Perennials
Roses
Herbs
Daylilys
Bog
Rock Garden
Shrubs
Peonies
John & Hildegarde Voight Trial Garden
"In the face of a flower, may we find gentle peace in a hurried world." – John Voight, Garden Director
Located a short distance from the formal gardens, the Trial Garden is well worth a visit. It is, in fact, the cutting edge of horticulture here at Boerner. Devoted to objectively evaluating the overall regional performance of newly developed plant varieties, the Trial Garden is beautiful, informative and internationally significant. It is an official test/display site for:
All-America Selections (Flower Display and Test Garden)
All-America Vegetable Selections (Display Garden)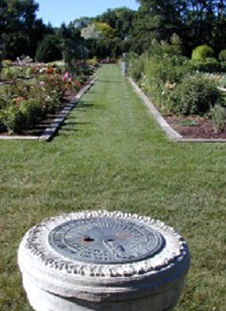 Results from our trials help determine which new plant introductions receive the coveted "All America Selections" title. For the home gardener, the "AAS" title signifies region-tested, quality seeds and plants. Come out and view over 500 exciting, up-and-coming annuals, perennials and roses being evaluated.
The height of bloom in the Trial Garden lasts from late July to early September, but we encourage your visits throughout the growing season.
The plant trial area at Boerner Botanical Gardens is named in honor of former Director, Mr. John Voight, and his wife Hildegarde. John Voight was appointed Gardens Director from the ranks of the CCC/WPA (Civilian Conservation Corps/Works Progress Administration) where he served as a crew leader in the 1930s and 40s.
During his 38 years as Gardens Director, John Voight worked to further the visions of his predecessors, Charles Whitnall and Alfred Boerner. In 1950, under John's leadership, the Trial Garden was developed, and eight years later, it became one of the carefully selected sites for the All-America Rose Selections (AARS) trials. In 1967, Boerner was also approved to conduct All-America Selections (AAS) flower trials.
Today the formal trials are planted, carefully maintained and evaluated within a deer-proof fenced enclosure. Specially trained judges evaluate the trial plantings and the results are tallied nationally.
In addition to the AAS trials, newly available seed provided by wholesale and retail seed companies is tested for regional success. In the park-like area adjacent to the fenced trials, ornamental shrubs and trees are demonstrated and bulb beds are planted with the latest in exquisite spring flowers!
Click on All-America Selections for more information.
Arboretum
In Latin, "arbor" means "tree" and "etum" means "grove or garden".
An arboretum is literally a garden of trees!
A living museum of woody plants from around the world, the 1000-plus acre Arboretum spans Whitnall Park and stretches along the adjoining Root River Parkway. Trees and shrubs belonging to the Arboretum's special collections are arranged in groves according to plant family. Both beautiful and educational, the arboretum serves as an outdoor classroom for anyone interested in woody plants.
Oak, maple, basswood, magnolia, beech, catalpa, ash, conifers, nut trees, ornamental fruit trees, lilacs, hydrangea and many more await your discovery. One of the nation's largest ornamental crab apple tree collections is located here. Blossoms from these and other flowering trees grace the Gardens and Arboretum from mid-April to mid-May. Maps are available to help visitors locate collections, and engraved plaques indicate specimens of noteworthy size and age.
Whether you visit to photograph the blooming crab apples or picnic under a huge Bur Oak, take notes for your own landscape plans or conduct more involved research. The Arboretum offers year-round beauty and interest!
Annual Garden
"Only the flowers which say nothing are understood by all, and there is no speech nor language where their voice is not heard." – Agnes Rothery, Quote from The Joyful Gardener, 1927
The Annual Garden serves as the main entrance to the Formal Gardens. Its central water garden, adrift with water lily and lotus, acts as a focal point for the rest of the Gardens – grassy malls with flowered borders stretch to the south and to the west. Within the Annual Garden, ornamental flowering trees and artistic statuary punctuate dazzling beds of colorful annual flowers. A low decorative wall made from native glacial-stone outlines the garden and a traditional gazebo offers quiet repose.
"Annuals" are plants that live to flower only one growing season. Consequently, the Annual Garden and adjacent display areas are freshly planted each year with an average of 10,000 individual plants. Award-winning annual varieties are selected and the magnificent Annual Garden is artistically reborn! Bloom lasts throughout the summer.
At the center of the Annual Garden, accenting each corner of the rectangular pool, are four Pfitzer Junipers, Juniperus chinensis (Pfitzeriana). These great mounding junipers, planted in 1939, are original to the Gardens. Four great American Elms once stood in echo to the balance of the junipers. These like many elms of their time eventually succumbed to Dutch Elm Disease. Today, a Dutch Elm Disease resistant American Elm, variety "Liberty M-8", grows at the site where the last of the original elms once stood.
Perennial Garden
"Each of the three flowering seasons is a strand in the perfumed braid which crowns the year." – Agnes Rothery, quote from The Joyful Gardener, 1927
In this garden, tapestries of perennial flowers line either side of a lush, grassy lawn. "Perennials" are plants that live at least three growing seasons. Visitors will be delighted to find the perennials in this Garden both diverse and well established. Over 900 perennial plant types are labeled and creatively used to orchestrate on-going, ever-changing harmonies of color, height, texture and form.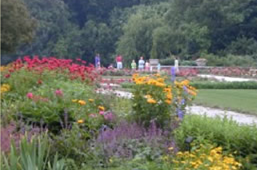 The Perennial Garden is a collection of plant collections including irises, phlox, hostas, daylilies and peonies. It abounds with perennial planting ideas for garden spaces ranging from full-shade to full-sun. From the simple beauty of early spring bulbs to the elegant fall appearance of ornamental grasses, the Perennial Garden is a source of constant beauty!
In 2007, Master Gardener Volunteers working with the UW-Extension Horticulture Center at Boerner Botanical Gardens began recording blooms in the Perennial Gardens.
Rose Garden
"…I will never be able to look at it without a deep warmth in my heart. For this is the rose above all others that my mother especially loved."
– Agnes Rothery, quote from The Joyful Gardener, 1927
For centuries, summer has been the season of the rose. In medieval times the rose was such a popular flower that it was referred to as "Flos Florum", flower of flowers!
Here in the Rose Garden among great stone arbor pillars, water flows from ornamental fountains, colorful Koi fish swim in a central pool, and we are blessed with roses all summer long.
Waves of bloom begin in the latter part of June with Hybrid Tea, Floribunda and Grandiflora Roses. Spectacular second and third waves occur in mid-August and late September respectively. Shrub and Miniature Roses bloom continuously throughout the growing season!
Rose enthusiasts will be delighted to find collections of Old Garden, Miniatures and Romantica Fragrance Roses; current and past All-America Rose Selection Winners; and winter-hardy selections from the Canadian explorer, Dr. Buck, and David Austin series.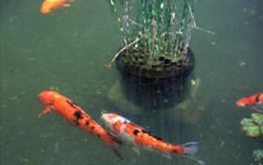 In addition, Tree, Hybrid Perpetual, China, Polyantha and Climbing Roses can be found. Immerse yourself in beauty with a visit to this exquisite garden where over 5000 rosebushes from 550-plus varieties are sure to please the rose lover and convert the casual observer!
The Rose Garden that today's visitor sees at Boerner is very much the same garden seen by guests in the 1930s. Many of the roses originally planted in this Garden were provided by Eugene Boerner. Eugene was the brother of former Gardens Director and Gardens namesake, Alfred Boerner.
Eugene Boerner, know to rose enthusiasts as "Papa Floribunda", was an expert rose hybridizer. His work with Jackson & Perkins Roses is said to have put the company on the map. Some of the roses donated by Eugene Boerner still flourish in the Rose Garden today.
The fancy Koi fish that swim in the Rose Garden's central pool spend the summer at the Gardens enchanting the passersby. In late fall, these fish are moved to tanks at the Milwaukee County Zoo where they are kept through the winter.
For more information about roses, click on The Milwaukee Rose Society.
Herb Garden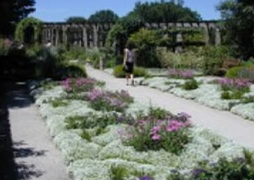 "To have nothing here but Sweet Herbs, and those only choice ones too, and every kind its bed by itself." – Erasmus
Tucked away in a picturesque corner of the Formal Gardens, surrounded by a tall hedge, the Herb Garden lies cloistered in monastic-like solitude. Herbs warming in the sun fill the air with fragrance.
Generally speaking, an herb is a plant with practical uses. In this Garden, over 300 herb varieties are featured. The herbs are labeled and each is planted in one of the following beds based on its significant use or notoriety.
Medicinal Herbs
Culinary Herbs
Native Herbs that prefer sun
Native Herbs that prefer shade
Herbs used in design
Herbs used for fragrance
Herbs of the Bible
Herbs that repel insects
Herbs used for dyes
Each year new garden designs are developed and planted in the Herb Garden's two decorative herb beds. These beautifully patterned beds are a showcase for the colorful, ornate potential of herb plants. A theme bed located at the heart of the Herb Garden hosts a fun new thematic herb planting annually. Examples of themes from prior growing seasons include: The Peter Rabbit Garden, The Asian Herb Garden, and The Pioneer Garden.
The Herb Garden was first planted in 1955. It is not original to the Formal Gardens, but an addition inspired by the Wisconsin State Pharmaceutical Society's interest in medicinal herbs. With the Society's encouragement and the initiative of former Gardens Director, John Voight, this lovely, educational garden came to be.
The well-established yew hedges that surround the Herb Garden are original plantings from the time the Herb Garden was created. The Wisconsin State Pharmaceutical Society donated the seed used to plant the Garden's first herbs. Today, Boerner continues to attract the interest and support of local plant societies. Currently, the Herb Garden is pleased to have the ongoing involvement and support of the Herb Society of America's Wisconsin Unit.
Click on The Herb Society of America, for more information.
Daylily Path
A lily of a day Is fairer far in May, Although it fall and die that night – It is the plant and flower of Light.
– Ben Jonson, 1573-1637
The daylily's ephemeral blossoms last only a day. The Greek botanical name for daylily, hemerocallis, actually means "beautiful for a day". Happily, each daylily along the curving Daylily Path boasts a multitude of blossoms so visitors are treated to a month of glorious bloom.
In spring, Dwarf Iris line the walk with a rainbow array of petite grace. As spring turns to summer, their beauty gives way to colorful sweeps of annual flowers, which ornamental grasses artfully complement. At the very height of summer, color and form crescendo with the brilliant debut of daylilies. Two hundred plus varieties, including some of the newest cultivars, grow in profusion. In July, at the peak of their bloom, raucous waves of festively colored daylilies sway and nod on every breeze!
Thanks in part to generous plant donations made by The Daylily Society of Southeastern Wisconsin, Boerner is able to offer garden visitors the opportunity to see many of the newest daylily cultivars.
Today's exciting new daylilies can be found blooming in a variety of specially developed flower styles, from pointed star shapes and doubles to flat saucer shapes and "spiders" (flowers with long twisted petals).
Click here to visit The Wisconsin Daylily Society for more information.
Bog Walk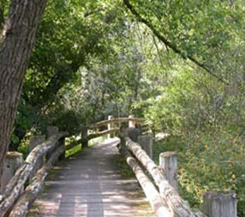 "The bog garden was my favorite spot…I could go down, stand on the bridge and meditate. It's the best bird sanctuary in the world, and you meet the nicest people there."
– John Voight, Director Emeritus, Boerner Botanical Gardens
Tended primarily by nature and filled with bird songs and dancing shadows, the Bog Walk provides enchanting passage from cool shade in the Rock Garden to fragrant warmth in the Herb Garden.
Seeping water, cool soil and lush growth make it a haven for wildlife. Migrating birds rest in foliage along the walk and children explore from the bridge. Festive Jewelweed, odd-looking Skunk Cabbage, sunny Marsh Marigold and wild raspberry greet all that pass with natural enthusiasm.
Rock Garden
"I want not wealth; I want not power; heaven is beyond my hopes. Then let me stroll through the bright hours as they pass, in my garden among my flowers."
– Lao Ch'ien, A.D. 365-427, Quote from Peach Blossom Fountain
The Rock Garden's trickling streams, quiet pools, waterfalls and dynamic rockwork create an intimate, woodland grotto. Silvery-white birch trees and an array of shade-loving, woodland plants from around the world fill the Garden with color and interest year-round.
In early spring, the Rock Garden is carpeted with Wisconsin wildflowers and the delicate blooms of Asian and European bulbs. As spring flows into summer, Japanese Primroses and Siberian Irises lead off a parade of flowering perennials. Summer gives rise to a host of ferns, fragrant-flowered Japanese Hostas, and bright South American and African tropical flowers. Gold birch leaves fall like coins in autumn and Dwarf Conifers put the sleepy, early winter garden to bed.
Whatever time of year you visit the Rock Garden, you are sure to be greeted by gentle beauty!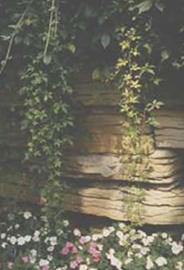 Alfred Boerner, for whom the Gardens are named, developed this lush, tranquil garden from an old gravel pit. Between the construction years 1934-1941, over 1000 tons of weathered limestone were quarried and moved from Currie Park to the Gardens where they were then assembled in naturalistic layers. It was Alfred Boerner' s desire to have the finished stone work " look as though it (occurred as) the result of the natural process of weathering…" Today the layered stone is grown over with ferns and groundcover, and the effect is as Boerner had hoped, like "…no man had played a part in it."
William Ragio, a CCC (Civilian Conservation Corps) worker, remembered his involvement with the building of the Rock Garden this way, "it was like building the pyramids. Stone slabs, many weighing several thousand pounds were put in place on rollers and there were lots of damaged toes."
Shrub Mall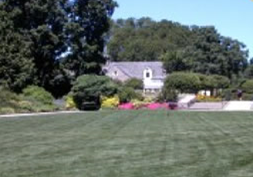 "I hold that the best purpose of a garden is to give delight and to give refreshment of mind, to soothe, to refine, and to lift up the heart in spirit of praise and thankfulness…"
– Gertrude Jekyll, 1843-1933, quote from Wood and Garden
The Shrub Mall has the regal look and feel of an English country estate garden. Its impressive central lawn or "mall" stretches luxuriously from end to end. Enhanced by clever illusion, the lawn appears longer than it is. The southern edge is 16 feet narrower than the northern edge, visually creating a lengthening effect.
Artistically designed mixed-border beds run the length of the grassy mall. Within these beds, visitors can find all the elements of landscape design tastefully blended. Both interesting to the eye and instructive to the gardening enthusiast, the beds incorporate shrubs, trees, annuals, perennials, bulbs, groundcover and vines. Collections of Intermediate Bearded Iris and exotic Tree Peonies bloom simultaneously in mid-May.
Find your way to the Shrub Mall, spread out, breathe deep and take in this Garden's expansive beauty. Gardeners bring a pen and pad; you'll want to take notes.
Peony Garden
"The lofty position of the peacock among birds is just like that of the peony among flowers."
– Arno & Irene Nehrling, quote from Peonies Outdoors and In
No tour of the Botanical Gardens in spring would be complete without a visit to the Peony Garden. The peony's many attributes merit special attention. Here at Boerner, in a garden devoted solely to the peony, we showcase over 175 of the best new and vintage herbaceous varieties. In bloom, our largely disease-resistant, stem-strong peonies create a sea of color, form and fragrance.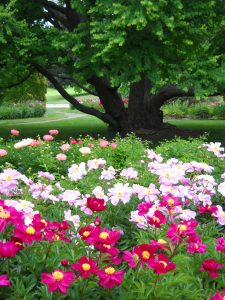 Bloom time is weather dependent, but typically begins in mid-May and ends the later half of June. This spring, treat yourself to the amazing spectacle of our Peony Garden in bloom. In fall, don't miss this Garden's eye-catching border of ornamental grasses and late-blooming perennials.
At the center of the lovely Peony Garden stands a truly picturesque old Katsura tree. The Katsura's broad canopy creates cool, dappled shade in the summer, and in the fall its golden leaves give off an aroma like that of caramel corn. Donated to the Gardens by Jack Puelicher in 1957, this Katsura tree was 38 years of age when transplanted.