Margie's Garden, the core mission of Margie's Smile, Inc., is a whimsical, all-accessible, interactive children's garden space located in the Boerner Botanical Gardens.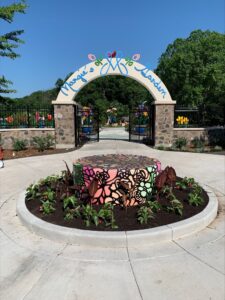 The 'Margie' of Margie's Garden
The garden's namesake is Margaret "Margie" Kezman, a local teacher who died in May 2019.  Kezman's husband, Tim Kezman, wanted to do something special to honor his late wife, said Ellen Hayward, President/CEO of Friends of Boerner Botanical Gardens, Inc.
Hayward met with Kezman in 2019 and informed him of the option of personalizing a bench, tree or brick as a memorial, but said he wanted to do something more significant, more public, and something that would serve future generations because his wife was a teacher. "He said, 'Is there anything you're dreaming about? Is there anything that FBBG would love to see come to Boerner?'" Hayward said. "And I said, well, a children's garden." Hayward said a children's garden is listed as a long-term goal in Boerner's master plan, which was crafted in the 1990s.
Garden features
The garden, designed by Milwaukee-based New Eden Landscape Architecture, includes an "enchanted village" complete with a playhouse, fiddlehead path, twig hut and mushroom chair rings; a bug garden with interactive, friendly bug sculptures; and a stone and wood "troll bridge" over a dry stream bed, according to design plans.
At the center of the garden is "Margie's Stage," a stage with a fabric shade structure and limestone terrace seating. The garden also includes a bird's nest walk, number garden, woolly mammoth storybook nook, pollinator garden, sunflower garden, and prairie & wildflower zone.
When asked about her favorite feature, New Eden Landscape Architecture owner Rosheen Styczinski said it's difficult to say. "I love all the places and features," Styczinski said in an email. "The playhouses are one of a kind and I hope kids are delighted and drawn to them. The secret garden space is also fun. It is based on the story of the secret garden. It is an enclosed garden with little surprises embedded into the garden and walls." She said many of the ideas in the garden were inspired by Margie Kezman and her love of flowers and children.
Large, 6- to 8-foot-tall metal flower sculptures are placed throughout the gardens and there are numerous activities for the children to partake in when visting. The garden is accessible to wheelchairs and strollers, and has plenty of shade and benches for resting. There is no additional fee for Margie's Garden.
For more information on Margie's Smile, Inc., visit HERE