"The lofty position of the peacock among birds is just like that of the peony among flowers."
– Arno & Irene Nehrling, quote from Peonies Outdoors and In
No tour of the Botanical Gardens in spring would be complete without a visit to the Peony Garden. The peony's many attributes merit special attention. Here at Boerner, in a garden devoted solely to the peony, we showcase over 175 of the best new and vintage herbaceous varieties. In bloom, our largely disease-resistant, stem-strong peonies create a sea of color, form and fragrance.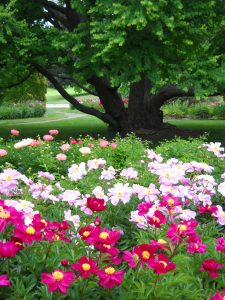 Bloom time is weather dependent, but typically begins in mid-May and ends the later half of June. This spring, treat yourself to the amazing spectacle of our Peony Garden in bloom. In fall, don't miss this Garden's eye-catching border of ornamental grasses and late-blooming perennials.
At the center of the lovely Peony Garden stands a truly picturesque old Katsura tree. The Katsura's broad canopy creates cool, dappled shade in the summer, and in the fall its golden leaves give off an aroma like that of caramel corn. Donated to the Gardens by Jack Puelicher in 1957, this Katsura tree was 38 years of age when transplanted.