Our programs assist educators in covering the content and performance standards found in the Common Core State Standards for Science. Teacher materials sent prior to the class will identify and highlight the standards covered by the program you have selected. Contact our Education Manager, Paul for a full list of program courses at (414) 525-5659.
BE PREPARED TO BE INSPIRED, EDUCATED, AND CHALLENGED…
The Friends of Boerner Botanical Gardens offers programming in our Visitor's Center and outdoor garden classrooms!
We welcome all area schools, community centers, youth groups, and day care centers
The objective of our school / community programming is to enhance science education by providing interactive, hands-on science experiences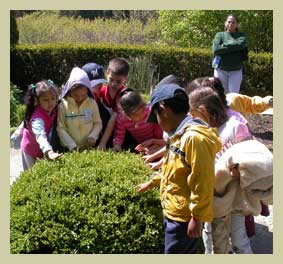 Garden Programs Information & Fees
$7.00 per student
Flat fee of $70.00 for groups of 10 students or less
No fees for chaperones or teachers
Invoice will be sent with program confirmation
Payment by check or money order only
$25 fee for cancellations less than 48 hours
Register today!
There are a wide variety of programs to choose from for on-site education in the Gardens.
Phone: 414-525-5659
Fax: 414-525-5668
E-mail: [email protected]