Join Us!
Become a Member Today!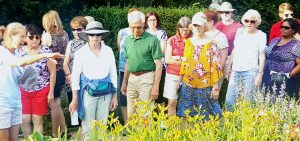 If you are purchasing a membership as a gift, please contact (414) 525-5653 or fill out the printable form below and submit by mail.
To become a member, fill out the form below, or if you prefer to register by mail, CLICK HERE FOR A PRINTABLE APPLICATION FORM. 
FBBG Membership
As a member of the Friends of Boerner Botanical Gardens (FBBG), you help support one of Wisconsin's historic and most unique and beautiful natural spaces.
Your membership provides you unlimited admission to the Gardens, and admission to more than 300 American Horticultural Society Gardens, including Chicago Botanic Gardens.
Your membership makes a difference!
The Gardens were developed as a retreat for enjoyment, renewal an in-nature learning.  The Gardens themselves are owned and operated by Milwaukee County.
All FBBG Membership Levels Include
Free Unlimited Admission to the Gardens
10% Discount in Gift Shop on FBBG labeled items
10% Discount in Nell's Garden Cafe*
Discounts on FBBG classes and events
E-blasts and mailers providing FBBG updates on class/events
Membership Appreciation Event
Reciprocal admissions to over 300 American Horticultural Society Gardens (www.ahsgardening.org)
Please allow up to two weeks from purchase to mailing for your membership.
Temporary membership cards are available for pickup at the gardens between 9-4 Monday through Friday for those who wish to begin visiting the gardens when they are open.  If you are unable to pick up and need your temporary card before receiving your membership, please email [email protected].
Membership Categories
Student
($15 – ages 16-22)
One Membership Admission Card – good for one adult
(1) One-time Guest Pass
Educator
($25 – State Certified Teachers)
One Membership Admission Card – good for one adult
(1) One-time Guest Pass
Individual
($35 per year/$65 – 2 years)
One Membership Admission Card – good for one adult
(1) One-time Guest Pass
Individual Plus One
($50 per year/$90 – 2 years)
Two Membership Admission Cards
(2) One-time Guest Passes
Family
($65 per year/$120 – 2 years)
Two Membership Admission Cards – Good for two adults and three children (under age 17)
(3) One-time Guest Passes
Membership Plus Categories
Garden Friend ($100)
Two Membership Admission Cards – good for two adults and three children (under age 17)
(5) One-time Guest Passes
Recognition in the Friends' Annual Report
Associate ($250)
Two Membership Admission Cards – good for two adults and three children (under age 17)
(5) One-time Guest Passes
VIP Tour
Recognition in the Friends' Annual Report
Affiliate ($500)
Two Membership Admission Cards – good for two adults and three children (under age 17)
(5) One-time Guest Passes
VIP Tour
Recognition in the Friends' Annual Report
SEEDS ($1,000)
Supporters of Education, Environment, & Developmental Strides
Two Membership Admission Cards – good for two adults and three children (under age 17)
Ten (10) One-time Guest Passes
Recognition in the Friends' Annual Report
Annual Donor Appreciation Dinner
20% Discount in Gift Shop of stock items
Recognition on the SEEDS Donor Wall in the Education and Visitor Center
Memberships

(membership-type: Individual One Year)

$

35.00

Memberships

(membership-type: Individual Two Year)

$

65.00

Memberships

(membership-type: Individual Plus 1 One Year)

$

50.00

Memberships

(membership-type: Individual Plus 1 Two Years)

$

90.00

Memberships

(membership-type: Family One Year)

$

65.00

Memberships

(membership-type: Family Two Years)

$

120.00

Memberships

(membership-type: Student (Ages 16 - 22))

$

15.00

Memberships

(membership-type: Educator (State Certified Teachers))

$

25.00

Memberships

(membership-type: Individual)

$

35.00

Memberships

(membership-type: Individual Plus One)

$

50.00

Memberships

(membership-type: Family)

$

65.00

Memberships

(membership-type: Garden Friend)

$

100.00

Memberships

(membership-type: Associate)

$

250.00

Memberships

(membership-type: Affiliate)

$

500.00

Memberships

(membership-type: SEEDS)

$

1,000.00