"In the face of a flower, may we find gentle peace in a hurried world." – John Voight, Garden Director
Located a short distance from the formal gardens, the Trial Garden is well worth a visit. It is, in fact, the cutting edge of horticulture here at Boerner. Devoted to objectively evaluating the overall regional performance of newly developed plant varieties, the Trial Garden is beautiful, informative and internationally significant. It is an official test/display site for:
All-America Selections (Flower Display and Test Garden)
All-America Vegetable Selections (Display Garden)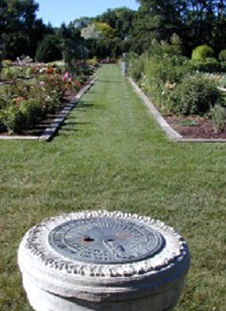 Results from our trials help determine which new plant introductions receive the coveted "All America Selections" title. For the home gardener, the "AAS" title signifies region-tested, quality seeds and plants. Come out and view over 500 exciting, up-and-coming annuals, perennials and roses being evaluated.
The height of bloom in the Trial Garden lasts from late July to early September, but we encourage your visits throughout the growing season.
The plant trial area at Boerner Botanical Gardens is named in honor of former Director, Mr. John Voight, and his wife Hildegarde. John Voight was appointed Gardens Director from the ranks of the CCC/WPA (Civilian Conservation Corps/Works Progress Administration) where he served as a crew leader in the 1930s and 40s.During his 38 years as Gardens Director, John Voight worked to further the visions of his predecessors, Charles Whitnall and Alfred Boerner. In 1950, under John's leadership, the Trial Garden was developed, and eight years later, it became one of the carefully selected sites for the All-America Rose Selections (AARS) trials. In 1967, Boerner was also approved to conduct All-America Selections (AAS) flower trials.
Today the formal trials are planted, carefully maintained and evaluated within a deer-proof fenced enclosure. Specially trained judges evaluate the trial plantings and the results are tallied nationally.In addition to the AAS trials, newly available seed provided by wholesale and retail seed companies is tested for regional success. In the park-like area adjacent to the fenced trials, ornamental shrubs and trees are demonstrated and bulb beds are planted with the latest in exquisite spring flowers!
Click on All-America Selections for more information.