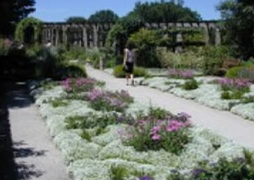 "To have nothing here but Sweet Herbs, and those only choice ones too, and every kind its bed by itself." – Erasmus
Tucked away in a picturesque corner of the Formal Gardens, surrounded by a tall hedge, the Herb Garden lies cloistered in monastic-like solitude. Herbs warming in the sun fill the air with fragrance.
Generally speaking, an herb is a plant with practical uses. In this Garden, over 300 herb varieties are featured. The herbs are labeled and each is planted in one of the following beds based on its significant use or notoriety.
Medicinal Herbs
Culinary Herbs
Native Herbs that prefer sun
Native Herbs that prefer shade
Herbs used in design
Herbs used for fragrance
Herbs of the Bible
Herbs that repel insects
Herbs used for dyes
[spacer height="10″ mobile_hide="true"]
Each year new garden designs are developed and planted in the Herb Garden's two decorative herb beds. These beautifully patterned beds are a showcase for the colorful, ornate potential of herb plants. A theme bed located at the heart of the Herb Garden hosts a fun new thematic herb planting annually. Examples of themes from prior growing seasons include: The Peter Rabbit Garden, The Asian Herb Garden, and The Pioneer Garden.
The Herb Garden was first planted in 1955. It is not original to the Formal Gardens, but an addition inspired by the Wisconsin State Pharmaceutical Society's interest in medicinal herbs. With the Society's encouragement and the initiative of former Gardens Director, John Voight, this lovely, educational garden came to be.
The well-established yew hedges that surround the Herb Garden are original plantings from the time the Herb Garden was created. The Wisconsin State Pharmaceutical Society donated the seed used to plant the Garden's first herbs. Today, Boerner continues to attract the interest and support of local plant societies. Currently, the Herb Garden is pleased to have the ongoing involvement and support of the Herb Society of America's Wisconsin Unit.
Click on The Herb Society of America, for more information.